Announcing Investor Advocates for Social Justice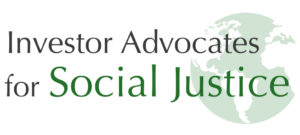 Dear colleagues,
I am pleased to announce the launch of Investor Advocates for Social Justice (IASJ). This new name replaces our former name, the Tri-State Coalition for Responsible Investment. This is an energizing evolution for our nearly 45-year-old organization, to build on our legacy of impactful shareholder advocacy and ensure our ability to meet the changing needs of faith-based investors in order to sustain this work for years to come.
While our core work and the values that drive it will remain consistent, updates to our mission, governance structure, and services will help strengthen what we do and advance this important work for justice.
Our renewed mission is to advocate on behalf of a community of investors whose faith-based values promote human rights, climate justice, racial equity and the common good. We remain committed to our faith-based values to achieve this mission, guide our advocacy, lead with integrity, and confront today's challenges. As corporations consider fundamental shifts in the principles that guide their actions, and socially responsible investing continues to grow, we intend to be a leading voice calling for accountability and respect for all.  
Our newly articulated vision is to foster and support an equitable economy where investors leverage their collective voice and resources to advance social, economic and environmental justice. Our organization has developed unique expertise and the ability to advocate for specific change through direct engagement with corporations, proxy voting, and responsible investing, and with these tools, we will work to develop a more just world.
We are proud of our organization's legacy and equally as proud to share this exciting evolution. I am confident that as we face the future, our values, our Affiliates and partners, and our new Board of Trustees, will lead the way to ensure our organization will continue to promote human dignity and protect the health of our planet, leveraging the collective investor power to advance social, economic and environmental justice.
I invite you to contact me via email (mbgallagher@iasj.org) if you have any questions regarding our evolution or would like to explore further collaboration, and share additional links below where you can find more information on our website.
With enthusiasm for the future, 
Mary Beth Gallagher
Executive Director