Shifting Gears Part II: Indigenous Peoples' Rights and Mining in the U.S.
The transition to green energy technologies, like electric vehicles (EVs), will require a massive amount of transition minerals. EV's require, on average, six times the mineral inputs of conventional cars. For example, the International Energy Agency predicts, that under the Sustainable Development Scenario (SDS),[1] between 2020 and 2040, demand for lithium will increase by 43 times, nickel by 41 times, cobalt by 21 times, manganese by 17 times, and graphite by 25 times. In order to fulfill the demand for transition minerals, the mining industry has been seen as an important player.
In the United States, the Biden administration has committed to guaranteeing EVs make up 50% of all new car sales by 2030. To meet the rising demand in transition minerals for electric vehicles, the Biden administration has put in place a comprehensive plan to bring EV mineral extraction and processing into the U.S. While clean energy goals are critical, environmental groups have expressed their concerns around the environmental damage that would occur as a result of an increase in mining in the U.S. In addition to the lasting environmental harm, mining activities disproportionately affect Indigenous communities. According to a notable MSCI study, many of the transition mineral deposits in the U.S. are located near or within culturally or environmentally important areas to Indigenous Peoples. In fact, "97% of nickel, 89% of copper, 79% of lithium and 68% of cobalt reserves and resources in the U.S. are located within 35 miles of Native American reservations."
As will be mentioned in this blog, the proximity of mining to Indigenous lands creates a significant risk of violations of Indigenous Peoples' rights. Mining, including mining waste, continues to cause significant environmental damage, polluting water sources, harming animal and plant life needed for subsistence, and negatively impacting the livelihoods of Indigenous Peoples. Studies have also shown the lasting, negative health impacts, such as chronic illnesses, of mining pollution on Indigenous communities. Further, since many mining operations are located on unceded Indigenous Lands, mining often destroys or negatively impacts places of cultural and spiritual significance for Indigenous Peoples. Additionally, the creation of "man camps" (i.e. temporary housing for mine workers) near mining operations has been linked to increases in violence in Indigenous communities, especially against Indigenous women, girls, and two-spirit people. As will be discussed in this blog, Indigenous Peoples' right of free, prior, and informed consent (FPIC) is central to respecting participatory rights and land rights. FPIC allows Indigenous Peoples to negotiate with governments and companies as equals, withholding or conditioning consent according to their self-determined priorities.
The transition to clean energy is critical to combatting the climate crisis, but mining for transition minerals must not repeat cycles of violence, suppression, and exploitation of Indigenous communities.
The Right to Free, Prior, and Informed Consent (FPIC)

The global authoritative framework on the rights of Indigenous Peoples is found in the United Nations Declaration on the Rights of Indigenous Peoples (UNDRIP). While the UNDRIP itself is not legally binding,  it serves as a legal framework for "the minimum standards for the survival, dignity and well-being of the indigenous peoples of the world." After initially opposing the UNDRIP, the United States formally endorsed it in 2011, citing its commitment to "serving as a model in the international community in promoting and protecting the collective rights of indigenous peoples as well as the human rights of all individuals."
Central to Indigenous Peoples' rights is the right of free, prior, and informed consent (FPIC), when it comes to matters that could impact their lands, territories, and cultural and religious practices. The following is a basic understanding of the interconnected FPIC elements: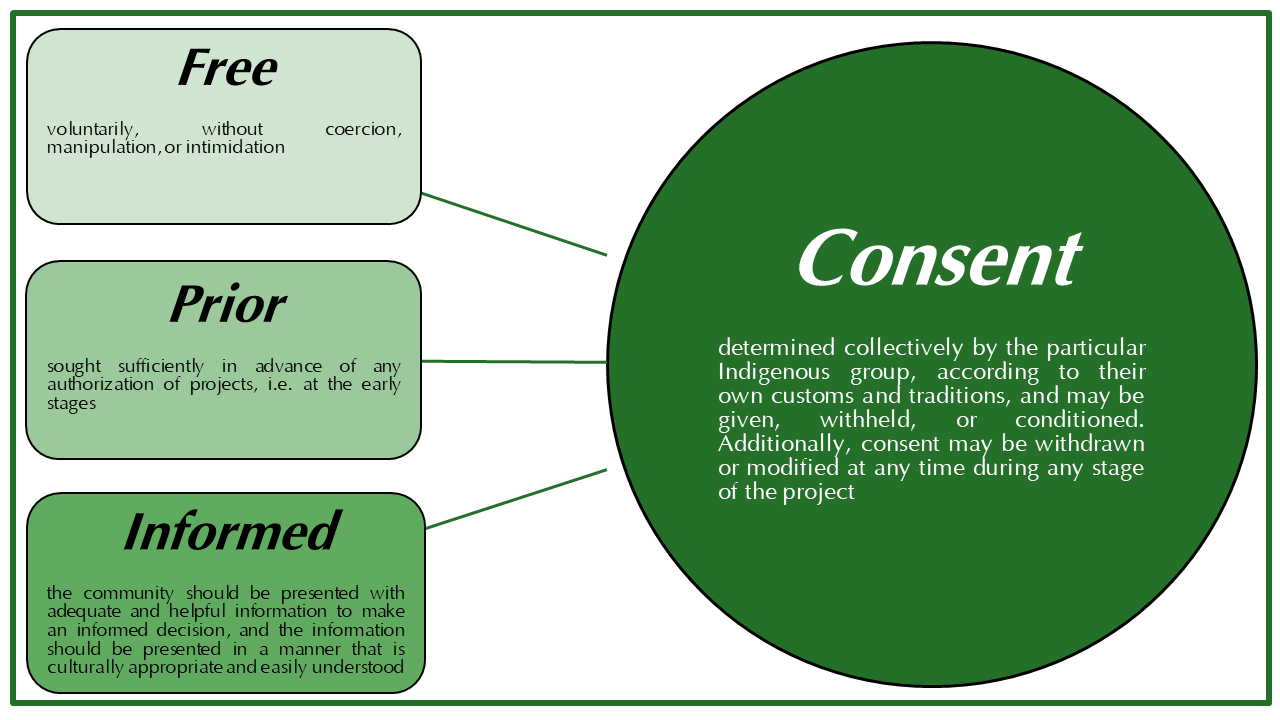 According to the UNDRIP, before the approval of any project that may affect Indigenous Peoples' lands, territories, or resources, states must work in good faith with Indigenous communities to obtain FPIC. Through the UN Guiding Principles on Business and Human Rights (UNGPs), this also applies to companies. FPIC represents social license to operate, since business activities that violate Indigenous Peoples' rights often undermine a company's credibility and result in financial loss for the company. Material risks companies may face for causing or contributing to Indigenous Peoples' rights violations include reputational damage, project delays and disruptions, litigation, and criminal charges.
The State of Affairs in the United States
The Biden administration's historic electrification goals, which include increased EV production, onshoring of EV supply chains, and tax incentives, are increasing mining for transition minerals. The Infrastructure Investment and Jobs Act and the Inflation Reduction Act provide for an increase in researching transition minerals mining in the U.S., tax credits for purchasing EVs with a large percentage of U.S.-sourced transition minerals, and tax credits for mining companies extracting transition minerals in the U.S.
According to an ATLAS Public Policy report on the EV transition, there are currently 6 operating transition minerals mines and 24 announced projects underway.
Transition Minerals Mines in the U.S. and Native American Reservations (indicated in blue)
Despite absence of consent from the many Indigenous Peoples in the area, the lithium mine was approved in January 2021. Notably, the mining permit approval process was fast-tracked, which meant the process went faster than the normal mining permit process in the U.S. 
In 2021, the Apache Stronghold—a coalition of Apaches, other Native peoples, and non-Native allies dedicated to preserving Oak Flat- sued the U.S. government for violating the Religious Freedom Restoration Act and an 1852 treaty between the U.S. and the Apache peoples. 
Challenges and Opportunities
Mining for EV minerals and renewable energy resources in the U.S. is exponentially increasing, and with it, violations of Indigenous Peoples' rights. While an increase in mining activities is likely, in order to meet transition mineral demand, alternatives, such as battery recycling and repurposing abandoned mines, should be prioritized. When mining projects are considered, Indigenous Peoples' FPIC definitions and protocols must be comprehensively addressed to ensure Indigenous Peoples' rights are not violated and to prevent harm from coming to Indigenous communities. Similarly, FPIC should be operationalized in ongoing mining operations. Mining projects that violate FPIC may delay or even halt operations, resulting in financial loss.
Since many mines are not yet in operation, there is still opportunity to operationalize FPIC in the EV transition. While there is some movement towards reform in the mining industry, automakers can play a vital role in their supply chain investments and sourcing. Withholding investments in or refusing to source from mines that have violated Indigenous Peoples' rights can be a powerful tool for automakers, given their influential position.
[1] The Sustainable Development Scenario (SDS) represents a future reality based on the necessary measures to meet the goals of the Paris Agreement.