Black History Month 2022
Racism is not just a social justice issue; historically, it has also cast a long economic shadow. Following the Civil War, the Reconstruction Act of 1865 helped transition newly freed Black Americans from enslavement into members of the United States economic system. The Freedman's Savings and Trust Company was established for formerly enslaved Black American workers and Black Union soldiers and managed entirely by the Federal government. The original charter stipulated that deposits would only be invested in government-backed securities to forestall discrimination by the banking industry and aid Black Americans in building wealth. With its headquarters in Washington DC, the Freedman's Savings and Trust Company had 37 branches throughout the South, servicing over 100,000 Black American customers. 
 

The economic and civil rights policies of the Reconstruction Act were foundational in providing reparative justice for the sins of slavery. However, it was met with great resistance. Racial terror events such as the Camilla and Opelousas Massacres undermined progress. The Freedman's Savings and Trust had several years of success before failing in 1874. An all-White male board modified its charter, ending the requirement of investing in government-backed securities and shifting investments towards risky railroad stocks that eventually went bankrupt. Approximately 60,000 customers collectively lost $3 million dollars ($62.8 million in today's currency).  Frederick Douglass wrote that the collapse of the Freedman's Bank was equivalent to "adding another 10 years of slavery for the Negro Man." A few years later, the "Great Compromise of 1877", ended Reconstruction and the Jim Crow era was ushered in. As devastating as this wealth-stripping event was for Black Americans, sadly, it was only the first of many.
 
Lest we relegate racism to the impact it has on the Black population, it is vital to assess the great cost it exerts on the overall US economy. A virtual event by all 12 district banks of the Federal Reserve Systems called, "Racism and the Economy- Focus on Financial Services" concluded that the racial wealth gap and economic exclusion of Black Americans cost the US economy approximately $30 Trillion of GDP over the last 30 years.
 

Some sobering facts: in 2022, Black Americans make up 13% of the US population, yet hold less than 3% of our nation's total wealth (this figure includes Black Billionaires such as Jay Z, Robert Smith, CEO of Vista Partners, and Oprah Winfrey). The median household wealth of White households is approximately $171,000 as compared to $17,600 for Black households, and according to the Economic Policy Institute, a disproportionate rate of Black households have zero to negative net worth. Black Americans are subject to higher interest rates when buying a home and research from the Brookings Institute found that Black homeowners have lost $156 billion in value as result of racial bias in home appraisals and mortgage rates. The legacy of "Redlining" continues to be perpetuated within the banking industry. 
 
A recent report by the Financial Health Network indicated that the disproportionate rate of extractive fees and rates levied at Black and low income customers has been subsidizing lower to no-fee financing products and services for white and/or affluent customers. A 2021 Mckinsey and Co. report, "The Economic State of Black America: What is and What Could Be", highlights racial disparities for Black Americans within the job market. COVID uncovered significant disparate treatment of Black workers, many of whom are concentrated in frontline jobs; Black workers and their families were disproportionately devastated by the pandemic due to rampant job loss, inadequate access to healthcare, and scarce options for remote work. And let us not forget that all of this devastation is taking place against the backdrop of booming capital markets and robust corporate bail out packages for many industries.    
 

The Investment Management Industry numbers are equally distressing: The Knight Foundation report concluded that out of the $82 Trillion of assets under management, less than 1.4% is managed by diverse and women owned investment management firms. The hiring of diverse talent within Investment Management firms is lagging as well; despite verbal commitments to diversify the workforce, in the last 12 months, roughly 71% of all hires within Hedge Funds in the US, specifically, have been White and male.
 
These data points highlight significant systemic and institutional realities. Despite the sobering statistics, I am optimistic about the path forward; IASJ invites our community to learn and grow together to create a just, dignified and equitable economy for all. The closing of the racial wealth gap and realizing economic inclusion will require investors and asset owners to take a holistic approach towards activating capital, the access it provides, and influence it carries to make change. The Croatan Institute report "Capital at Crossroads- Redirecting Capital to Accelerate Racial Equity" offers recommendations that include encouraging companies to conduct racial equity audits; voting proxies aligned with Diversity, Equity, and Inclusion (DEI), board diversity, and workers' rights; removing structural and systemic barriers that preclude asset owners from investing with or increasing allocations to Black-owned investment management firms, Black entrepreneurs, and social impact funds across all asset classes; and mandating investment management firms' to make good on their DEI commitments.
 

The incorporation of racial equity throughout investment practices requires "Prophetic Risk" and courageous empathy. IASJ Affiliates and stakeholders in our community have, in many ways, pioneered shareholder advocacy and corporate social responsibility activities to advance human rights and climate solutions within the capital markets for the last 40 years. Our community has taken initial steps through participation in IASJ's internal racial equity audit, the Mission Aligned Investing cohort meetings on racial equity investing, in shareholder advocacy calling for racial equity in corporate practices, policies, and products, and in IASJ's fiscal sponsorship of the Racial Justice Investing Coalition. This is all part of the journey for our community of faith-based investors to achieve a portfolio alignment with their mission and values.
 
As socially responsible and faith-based asset owners, investment managers, advisors, and advocates paying homage to Black American history, the work of reconciling the ongoing legacy of Capital and White Supremacy on Black Americans is a critical piece to realizing a just and equitable world. As an 11th generation Black American, I deal with this troubling legacy on a daily basis and often tell people that my very existence is a form of resistance; I am personally aware of how much work is yet to be done in realizing an Anti-Racist and economically inclusive society that commits to the economic well-being of Black Americans. In honor of Black History Month, let's recognize the historical significance of the Freedman's Savings and Trust Company by taking meaningful action to advance racial equity today in order to achieve a more inclusive and equitable economy tomorrow.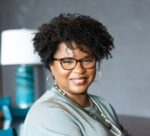 As a tribute to Black leadership making history in finance, IASJ would like to spotlight Tina Byles Williams CEO/CIO of Xponance and Erika Seth Davies, Founder of the Racial Equity Lab and CEO of RHIA Ventures, for their commitment and dedication to Economic Inclusion and to advancing Racial Equity in Finance. As we continue the powerful work of racial justice, IASJ looks forward to continuing our collaboration with you all.