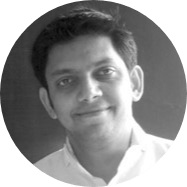 Niki Shah serves as the Associate Director for the Mission-Aligned Investment Program at Investor Advocates for Social Justice where he is focused on integrating ESG considerations into investment-decisions for faith-based institutional asset owners.  His expertise lies in community and international development, corporate sustainability, Environmental, Social and Governance (ESG) and sustainable investing.  Prior to joining IASJ, he focused on delivering a suite of ESG services from policy development and frameworks to reporting and disclosures.
Niki has worked with civil society, governments and corporations to bring sustainable solutions to social and environmental challenges. For example, he served as an AmeriCorps VISTA for the Hindu American Seva Charities to implement community development and service-oriented recommendations issued by President Obama's Advisory Council on Faith-Based and Neighborhood Partnerships.  He then served as an UN Volunteer for the UN Global Compact to build corporate-social enterprise partnerships in India.  In India, Niki contributed towards Yes Bank's corporate sustainability strategy focused on measuring and reducing the bank's carbon footprint, employee engagement, corporate reporting and advocacy for the bank's responsible banking approach.  He also served on the U.S. House Subcommittee on Africa and Global Health and has co-authored a report on internet rights for a European Union funded program on Freedom of Expression in India.  Through these opportunities, Niki gained exposure and insights to address the Sustainable Development Goals (SDGs) – particularly around business and human rights, digital access and tools, sustainability and the environment, impact investing, health, education, energy, and access to finance for sustainable economic development.
Niki holds a Bachelors of Arts degree in Journalism and Economics and a Master's of Science in Global Affairs from Rutgers University.  Currently, he is pursuing a Master's of Science in Sustainability Management at Columbia University and is expecting to graduate in May 2021.  At Columbia University, he is part of the executive team of Columbia Sustainable Finance Professionals Network and a member of the university's Transportation Working Group.
Niki's belief systems are rooted Vedic principles which makes him a strong advocate for sustainable finance.  He practices a yogic way of living and advocates for sustainability by being a responsible consumer and citizen. He loves reading children's books, watching movies, meeting new people, travelling and adventure.
Contact Niki at nshah@iasj.org