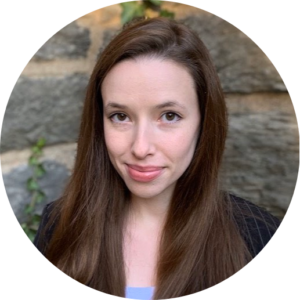 Gina joined Investor Advocates for Social Justice in June 2016. She supports shareholder advocacy campaigns calling on companies to address human rights impacts of business activities. Gina helps lead IASJ's Shifting Gears initiative, focused on engaging companies in the automotive sector on human rights risks in global supply chains. She supports additional company engagements focused on workers' rights and immigrants' rights. Gina also assists with relationship management for Affiliates and Clients, development activities, proxy voting, and office operations.
Gina's advocacy efforts as an undergraduate student played an instrumental role in shaping her passion for our key areas of engagement. Her involvement with Oxfam's Behind the Brands campaign led her to petition for a broad range of social and environmental issues, from ending land grabs in the sugar supply chain to improving conditions for women cocoa farmers. Gina was also involved in her college's chapter of Free the Slaves, a group dedicated to raising awareness about human trafficking, where she helped conduct a slavery footprint survey. During her semester abroad in Geneva, Switzerland, Gina interned with International Bridges to Justice, an organization dedicated to protecting the basic legal rights of ordinary citizens in developing countries.
Gina graduated with honors from Grinnell College with a B.A. in Anthropology and French. She also completed a concentration in Global Development Studies.
Contact Gina at gfalada@iasj.org